11.1 Fungi as food
Fungus fruit bodies are used as food by many invertebrates and are large enough to be used by many mammals, including large mammals like deer and primates (Hanson et al., 2003). In most soils, though, there is such a large amount of fungal mycelium that hyphae make a major contribution to food webs by being eaten by invertebrates including insects, mites, nematodes and molluscs. Microarthropods are responsible for shredding organic matter in soil (and so prepare it for the final mineralisation processes carried out by microbes), but about 80% of the tens of thousands of microarthropod species in forest soils are fungivores (or mycophagous); meaning they depend on the fungal mycelium for food. We have introduced many of these small animals before, in Chapter 1 (Section 1.5; see Haynes, 2014), and if you have not already done so, we suggest you check out the YouTube videos to which we refer in the following Resources Box.
In this Chapter we will illustrate some of the most important features with a short foray into the outside world. Nothing too strenuous; join us on a short walk to the bottom of our suburban garden in Stockport, Cheshire (Fig. 1).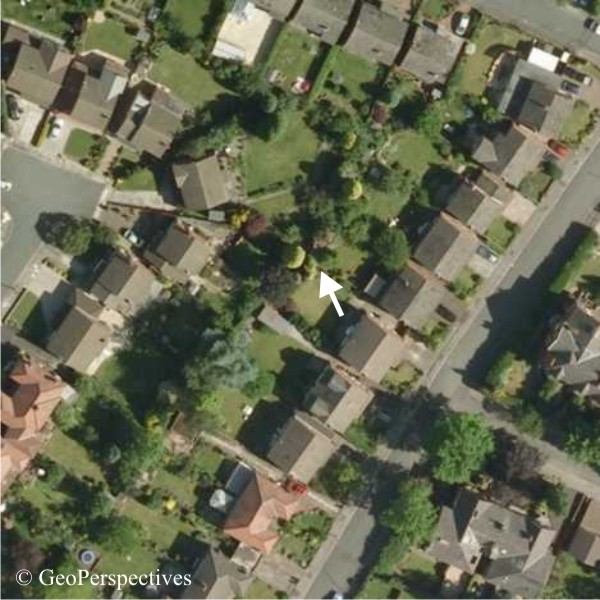 Fig. 1. The suburban location of the fruiting mycelium of Clitocybe nebularis which is illustrated in Figs 2 to 10. This biological survey was completed in my back garden and the aerial map image shows the site of the observations (arrow) and makes the point that biology and natural history extends to the urban environment. Image © GeoPerspectives; kindly supplied by James Burn of the Sales Team at www.emapsite.com.
Updated July, 2019